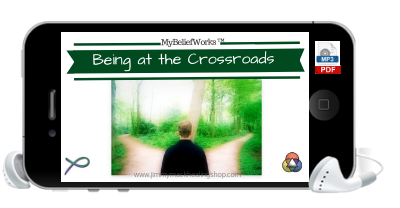 This audio MP3 encompasses every aspect of being at the crossroads of life whether it's dealing with a doctor, lawyer, government or Indian Chief! Just listening to this audio for yourself or a loved one can make the difference in creating and inserting ease, grace and peace into every aspect of your situation.
Clients who listened to this for the first time noticed remarkable changes that seemed to eliminate their stress, worry and dread about their impending situation, dilemma and decisions they were facing, some of which were life changing.
Are you facing a personal injury/property dispute? insurance or legal case? tax audit? pending family law challenges? troubles at work that could make or break you? a critical career or college decision, Spirit could answer that question for you just by listening to this, you could receive a definitive sign that will make a difference!
Sample clearings:
"I am releasing all levels of self­-sabotage and stuck patterns that have interrupted completion of this situation a group effort now changes circumstance in my favor."
"I release time as a limiting factor and I can accept that all of my circumstance and events resolve in a satisfying way."
"All past lives where dealing with professionals and transitions hurt me or haunted me are released off of my being now on all levels from this incarnation here and now.''
"I release any worry, chaos, drama, trauma, and feelings of conflict, and I release anything that creates an imbalance of power that would dissipate my energy."
"I have released any and all hostile conflicts around this, and the stigma of my situation being a troubling one and I transform all into peace now."
Includes over 30 mins of audio with over 120 clearings
1 MP3 audio with 1 PDF transcript

Here's what people are saying...

"This MP3 is very effective and definitely gets to the "nitty gritty" of making choices and realizing we can change things which are not working in our lives. We do not have to "work through them" necessarily. The quick and easy way is to fish it out and replace it with the higher choice of how we choose our lives to be. Thanks for a great product to help clear out those cob webs of resistance and stuckness.. Many thanks," - K.M.
"We face challenges every day, all day. Work and family are some of the biggest stressors and this MP3 cuts right to the core of those issues. Jimmy often uses the phrase "with grace and ease" and so much of our lives don't operate with grace or ease. What I liked about this particular MP3 was that I felt like I had reconnected with both of those things regarding my professional challenges. Sometimes we have to open our minds to our 'blindspots' and the things we can't see that we're doing or perpetuating. This download really helped with that!" - B.B.