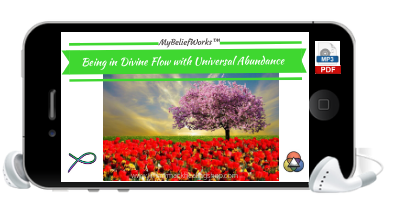 Living Life Abundantly and Co-creating with Universal Support
The Universal Abundance audio MP3 is part of a series focusing on Prosperity, money and increasing your good fortune. This particular MP3 has been simmering for over a year and goes deep to combine your abilities to create wealth while still keeping you grounded on this earth plane. 
All about being more in the vibration of abundance and lining you up with the frequency of money.  This has been a game-changer for a lot of folks. Several early listeners, including myself have noticed tremendous increases in production and income after listening to the audio one time!  
This audio could be the crown jewel in our theme quest of creating new found wealth for you!
Includes over 200 clearings on 1 40 minute MP3 Audio & 1 PDF written transcript 
Instantly playable on any computer or mobile device!
Click play below to hear a sample that will set the stage for you to feel the power of what we've got going on here and what we are clearing the way for and shifting!
**IMPT. NOTE** When you get access to your download, it will come to you in PDF format ONLY (you aren't missing a file) The AUDIO MP3 link will be clickable from the top of page 1 of the PDF! This should ease the access for both desktop & mobile users to now open both pdf & audio on one download link. Due to Apple's mobile download limitations: iPhone, iPad purchases will still be required to request the alternate links. 
Here's What People Are Saying...
"Thank you so much for this amazing audio, it covers all of my fears of abundance.  It was really worth waiting for.  It really made my heart sing to listen to it.  I feel so much lighter after just one session.  Heartfelt gratitude to you and your family." ~ M.P. 
"Hi Jimmy. 2 days after getting your new Abundance mp3 our house went on the market. Within 5 hours we had a full price offer. Awesomeness! Moving back to AZ. Blessings my Friend!"  ~ P. M. 
"..found money 3 times since listening!" ~ K. M. /  Michigan
"Jimmy, you're right, this one IS very special!  After I listened to the audio a few times, I decided to buy some lottery tickets and got a small win of a free ticket with the first one! Then I got the next ticket, and the next and no kidding 6 times in a row I had a won a free ticket, $2, $5.50, $3, $11, $5. Not only that, I got inspired to follow up on some new marketing ideas and began receiving 5x the sales from programs that I hadn't sold in years. Such fun!" - S.B. / Clearwater
"Soooooo, there has been so much abundance that I have not had time to get this to you, but finally, taking a breath and a moment of gratitude for my Jimmy Mack . . . As you know, I have been working 2 careers, simultaneously, for the last 5 years and have been contemplating quitting one of them for quite some time. The day I listened to your MP3, my boss of the least enjoyable of the 2 jobs, called out of nowhere to let me know that my remote position had been eliminated, and I was being laid off, effective immediately!  This included good references and 10 weeks severance!  Now, most people aren't happy to lose a job, but I was thrilled, as the decision was made for me, AND I was getting paid to leave.  Now, I can focus on the more satisfying career, and have more time to enjoy life!  I would recommend that EVERYONE HAVE A LISTEN TO THIS and THANK YOU, JIMMY!" ~ K.D. / Tampa
"Jimmy Mack's MP3 on abundance was like magic for me!  Before I listened, I said I am very grateful for the money miracle coming to fruition right now!  I started listening and was about 10 minutes into the recording.  We talked and I was able instantly to save about $700 off of my taxes instantly!  Awesome manifestation...thanks Jimmy Mack!  Your recordings are like dollars coming out of the sky!" ~ Mermaya / St. Pete, FL
"The blessings from Above have once again been divinely channeled through the latest entry in Jimmy Mack's "MyBeliefWorks" series.  The Abundance audio opens the door and acts as a catalyst to allow the riches of the Universe to more freely flow into your life.  Words have power, and Jimmy's words powerfully and poetically bring together the substance of things hoped for, and the evidence of things unseen.  They help manifest the infinite prosperity of the 5D by making it a firm reality here in the 3D.  Thank you Jimmy for helping us all receive this gift and for helping us live a truly fortunate life!" ~ J.A. / Tampa
"The first time I listened to this I felt pain, or more likely "stuff" leaving my ovary area. The second time I listened to this I could feel more leaving from other parts of my body. This is good but within 24 hours I was booked with clients and keep getting calls. I also received a nice check. This is great but what I love most is the way I feel about money and RECEIVING it has changed. I used to feel guilty about having or receiving money, now it's just normal, like breathing I don't even think about it, it;s just happening... I love you for this beautiful mp3 what a blessing. Thank you Jimmy," ~ T.G. / Wisconsin
"Once again I am totally blown away by your Abundance MP3.. .. I've listened to it everyday for 1 week. I've even taken parts out to add into my daily mantra. Two days ago the Cardiologist at my hospital invited me to his family's annual gratitude celebration, I've been manifesting for some time now to be including in the Dr.s circle. You are blessed Jimmy with wonderful gifts." ~ Kiki / Hawaii