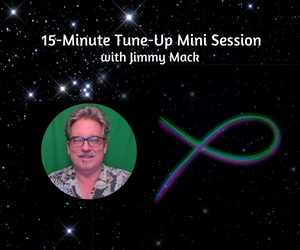 This service is intended ONLY for established or ongoing clients who have worked with Jimmy in the past and know exactly what a session is like and how to prepare for it.  This is NOT sufficient for first-time appointments which we require to book a minimum of a 30-minute session.
**YOU WILL GET ACCESS TO THE ONLINE SCHEDULING CALENDAR AFTER YOUR PAYMENT.
This session is for a time of crossroads, tune-up, very brief Q and A's; like should we buy this house or that one? Car or SUV, which school for our child etc. Once you're an established client, you'll find that even a tune-up session as brief as 15 minutes can make a world of difference.
Read about the changes people are reporting:
​"Thank you very much for your help and thank you for hard work. I was very happy with the results and the process, so quick. Have a lovely day:)" - Dominika /UK
"After getting off the phone with you. I felt that I didn't really care about when things would get resolved, all out of my hands. Within an hour I got five calls and emails from people and everything was resolved! all my new system for the new company are up and running. no stress involved!  thank you!" - D.M.

"There are many special people in my life, family, friends & clients for which I am very grateful, and then there is Mr. Jimmy Mack. Spirit flows and talks through Mr. Mack with such ease and grace that no words are enough to describe it.  During these challenging times, the Corona virus, stay at home orders, work stop, protests, a word in turmoil, Mr. Mack has been my direct connection with divinity. My weekly 15 minutes with him are an oasis of divine filled with calm, hope , health and belief in better times ahead. In only 15 minutes, you come back into balance . Just trust the Spirit that brought you here, book the sessions and your life journey will change for the best!  And the monthly prayers are absolutely working. The week I started the program, we had business coming back!  Blessings to all!"  - Lucia Prohor 
 "I have suffered from chronic migraines and headaches, being quite severe and debilitating at times, taking huge amounts of painkillers to get through the day.  I had one session of My Liquid Fish and dowsing. I no longer suffer from migraines or headaches. This is incredible and life changing for me. Jimmy also detected that the main reason for the headaches was dehydration after being told for years that it is related to stress. I can never thank you enough Jimmy!"  - Theresa M Johnson / UK
 "Jimmy is a gift! Expect miracles and quick results.  After a phone call with him,  you may not even feel the call did much but right away you will start to see the changes.  I've worked with Jimmy for a few years, and he has brought my life into balance if I'm 'off', and does it quickly.  I recently opened a salon and had major employee drama. I worked with Jimmy to release the drama, resistance and toxic people.  Within a week of two, 15 minute calls, I had a quick turnover of toxic employees and went from being the babysitter/boss to getting a new group of employees that I can leave in charge.   My situation went from all consuming to freedom.  Jimmy's energy is so powerful!   Don't be fooled by his easy going and soothing friendliness.  He works that powerful magic in a very subtle way.  He's talking and joking with you while fishing the blocks out.  You hang up the phone and feel relief but then major change happens quickly.  Spending even 15 minutes with Jimmy fishing the blocks and resistance out of your life, will be worth the time and money.   He packs amazing value into each phone call. Jimmy is an angel and thank God I found him!" - Laura A. / Chicago
"When you worked with me on the phone - and it was only for about 10 min and ​it was amazing... I swear, the rest of the day I was on fire!  When you were doing (the fishing work) with me it was so FAST! I haven't felt that good in a very long time. I was blown away and I'm not impressed easily, but I was deeply impressed."​ - Mike Picone, host of Awakened & Ready Summit
"Hi Jimmy, Thank you so much for another great session today. You always came up with those statements that produced maximal shift! Thank you."- W.P. / California
"Hey Jimmy, We signed a contract for the sale of the farm last Friday 14th October which was our last day to get a contract or we had to hand over the keys on 30th October!  You once said that they said it looked like we would be saved at the last minute….. they were right !!  The contract has a finance clause on it which goes until early November and once through that we will have settlement in early December.   We sold for $1.9m.  And there's so much to deal with and do to take the next step. Thanks so much for supporting me through this challenge….. you helped me so much !! Thanks again Jimmy."–  E.B. / Australia