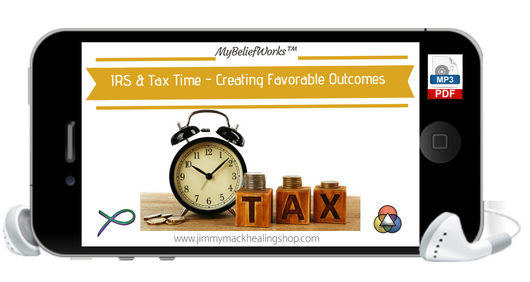 A lot of people can relate and that's the bad news... but the GOOD NEWS is that I've recorded a new audio MP3 with energetic clearings to help smooth things out to create more favorable outcomes during tax time now and in the future!  

The IRS and Tax Time audio MP3 is all about taxes, the IRS, tax collectors and agencies regardless of your country.  Most people get filled with so much dread when they think about the tax time of year. It's often a daunting task to deal with the agencies, to gather up for taxes, to get organized, or to go meet with those folks, a lot of times it sounds like Chinese when we're meeting with our people who handle the taxes. And if you're a tax preparer you know that just trying to keep up on the laws and all the updates and changes can be just as overwhelming.
If you're preparing your taxes yourself you may want to play this on low in the background while you're processing things, gathering things, maybe mailing things to taxing authorities, you're going to want to play this low and in the background after hearing it several times.  So keep that in mind, I promise you it will get better, it will become more smooth and this will energetically make a difference in your life!
Includes 40 clearings and is a 15-minute MP3 audio with written PDF transcript
Instantly playable on any computer or mobile device!
Click Play Below to Hear a Sample...
I am deserving of paying the least amount of taxes legally and my tax professionals find deductions and options suitable for me here and now
 I am worthy of staying above board, honest, fair and compliant with any and all laws so that I am always seen by any and all agencies of authority as being compliant in their eyes.
 I sense the ability for the best possible route of spending, deductions and keep more of what I make while spending less as my tax liability is minimized.
 It is safe and comfortable for me to pay what is fair, nothing more, nothing less and I am shown ways to make progress with this daily.
 Any time I have owed money for the past, currently or future tax payments, spirit shows me how to resolve this with grace and ease free of hardships.


Here's What People Are Saying...
"Ok this audio was seriously amazing. Especially as a business owner, it's hard to feel calm going in to tax season. Jimmy thinks of everything and brings to the surface all the fears you didn't know you had until they are said out loud- and then he clears them for you! I will now interact with Uncle Sam with grace and ease." - Marissa G / Colorado
"Good day Jimmy, I finally had a chance to listen to the tax anxiety MP3 this morning. I actually had an appointment scheduled with my accountant for next week, but I have to change the date, because I now have three real estate closings happening on that one day, a personal world record for me! After listening to your mp3, I realized how much Mind chatter of being afraid to make too much money, and therefore, pay too much in taxes, was taking over. How silly of me to be worried about making too much money! F@#$! that. Of course the PERFECTO scenario will play itself out, and I can make as much money as I please! My awesome accountant will be there every step of the way to guide me through the process of becoming an independently wealthy woman! Thank you universe and thank you Jimmy Mack, as always!" - Katherine / Virginia
"This recording was a Godsend---my panic at preparing my taxes was completely gone and I was able to focus with clarity." - Teresa / Seattle
"Another amazing download Jimmy...with the whole government shut down I was a apprehensive to get my paperwork in order. Well not anymore, I'm excited to get started on filing and confident I will have a small amount to pay in yet a huge payout to me!!!! "- Christy / Kansas
"While I don't have anxiety over paying taxes, I do have resistance and procrastination when preparing my taxes for my accountant.  After listening to the tax audio, I feel no resistance to tax preparation." - Pat. T. / Tampa
"What a brilliant clearing !!! After listening to it just once I felt a lot of energy moving and clearing out of my body. I was surprised how strong the past life clearing was for me. The level of anxiety I always experience when I think of taxes, tax authorities and money owed is gone! I almost feel excited about paying taxes because I know it will be less than I anticipate and the process will be filled with ease and grace."  - Gosia / California
"​

Thank you for making this! Having an audited by the IRS when tax time comes around I am always nervous and stressed out. Being self employed I always worry about my deductions, the amount I'm going to have to pay and if I'll have enough to pay it. I have listen to this twice. The first time I listened I felt a sense of relief but the second time I listened I felt like a big load was lifted from me and is permanently gone. Preparing my taxes to take to my accountant I am much more relaxed and calm and absolutely more confident thank you thank you thank you. And most importantly I am not worried I will be audited again.​"

 

- Toni G. / Wisconsin​ 
"I have been dealing with IRS challenges since 1989 when I was audited after being married and divorced after a year and the name change seemed to confuse the IRS!   It took 20 years to finally get caught up and now I am back to being behind again.    really know what IRS issues are with the threats and I really felt a sense of peace when listening to your new tax guidance MP3.   You really have it covered on all fronts, from past life issues, current accounting folks, and the best possible outcomes on all fronts.  I know I will have to pay in this year, since most of my income was on an independent contractor status.   I am optimistic about what the amount will be and know whatever it is, it is the least it could be. Thanks for another great timely program." - Katherine /Michigan
"I just listened to it!  I think it sounds great and you captured all of the angles I would.  Can it also include clearing the IRS software so it doesn't pick up on any audit triggers?" - J. P.  CPA / New Mexico
(Note from Jimmy *Just hearing or reading this in writing on the testimonial page energetically is changing it for everyone - that any tax software used by any government doesn't find any audit triggers in anyone's information that hears this audio or reads this message thank you.)